The Middle East Energy 2022 event took place in Dubai and Power Technology Research (PTR) enthusiastically participated to gain a sense of what is currently relevant and important in the GCC region. The atmosphere at the show was fantastic with an eagerness from many to keep the momentum going. Additionally, for many of us, it was an excellent opportunity to meet existing and new customers. Overall, this region is growing in importance and PTR will be keeping a close eye on the developments to come.
Some of my key takeaways from the event are summarized below:
In alignment with new and revised targets, renewables have been installed and are installing at an unprecedented level. Saudi Arabia, which is the biggest T&D equipment market in the Middle East plans to expand renewable generation from 1.2 GW in 2020 to 58.7 GW by 2030 and will be a major instigator of switchgear and transformer demand moving forward.
Saudi Arabia is actively engaging in the diversification of its current generation mix, making big investments in large-scale renewable capacity additions. In view of these developments, it is projected that Saudi Arabia will increase its HV transmission substation capacity by 214,000 MVAs and total power generation to ~120 GW by 2030. Accordingly, this will result in the construction of almost 560 transmission substations by SEC generating a huge demand of ~90,000 switchgear units. Furthermore, Middle East Africa has an estimated target of achieving 664,000 MVAs cumulative transmission HV substation capacity by 2030.
Similarly, other Middle East countries have also set ambitious renewable energy targets to integrate renewables, especially solar into their generation mix.
UAE aims to increase the contribution of clean energy in the total energy mix from 25% to 50% by 2050.
Oman plans to generate 30% of its electricity needs from clean energy sources by 2030.
Kuwait has set a target to generate 15% of its electricity from renewables by 2030.
Bahrain plans to increase renewables contribution to 10% towards the country's energy mix by 2035.
Qatar is planning to increase its solar capacity to 2-4 GW by 2030.
Due to these large-scale developments, the impact on the grid is clear and many are preparing now, adopting everything from legacy solutions such as SVCs and STATCOMs to newer solutions like energy storage and even a few Hydrogen-powered backup generators.
There is significant renewed interest in the region on the back of major new infrastructure projects. Huge investments in the infrastructure segment are planned to develop GCC as a financial and tourism hub, boosting non-oil exports and driving the T&D equipment demand going forward. The main subsectors within an infrastructure that are experiencing the highest growth are heavily industrial, light industrial, and private housing. Nearly everyone present in the market is benefiting and many more are looking to get in, overpowering any reluctance to do so based on increased local content requirements. This trend is expected to continue for the next 18 to 24 months at a minimum. Some recent mega infrastructure projects in Saudi Arabia are listed below:
High tech Neom city with a planned investment of USD 500 billion
King Abdullah Economic City with USD 59 billion investment
Jeddah Economic City with USD 28 billion investment
Red Sea Tourism Project with USD 9 billion
The Qiddiya Project with USD 3.5 billion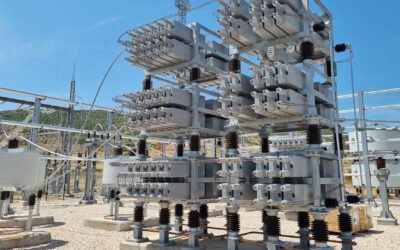 Due to evolving grids and stringent regulations regarding grid security, the Americas is considered one of the most important markets for any T&D...