Why is energy storage important?
Over the last decade, to cope with increasing environmental pollution, there has been a shift of the world's energy production to less polluting forms of energy. Other sources of energy, such as coal and nuclear energy, have begun to lose momentum since there are other better alternatives that reduce the greenhouse gas emissions without compromising on the yield of energy. Solar and wind are becoming increasingly popular as sources of energy generation, but each of these sources is intermittent. The sun does not always shine, and the wind blows at its own time. To balance the irregularities between supply and demand there has been an increase in the forms of energy storage throughout the world and the storage market has grown.
Energy Storage Market Share in Europe
In Europe, the energy storage market is expected to increase from 0.257 GW to 3.3 GW in the period 2015-2020 (for the electrochemical batteries). Even though the market increased, it is worth noting there was a dip in 2019 due to a slowdown in large-scale projects to store clean energy. These projects require planning permission from governments to move ahead, and this takes time. However, with climate protection advocates and the industry itself calling on European lawmakers to recognize the importance of energy storage, PTR expects a more positive outlook going forward even after taking into account the effects of Covid-19.
Production of batteries: In addition, lithium mines are expected to be operational between 2022 and 2024 which will meet almost 80% of Europe's lithium demand by 2025. There will be plenty of jobs created by the boost in the battery industry and this will help to counter the negative economic impacts imposed by the pandemic.
Segmentation of the Energy Storage Market
The energy storage market generally comprises of two segments: Front-of-the-Meter (FTM) and Back-of-the-Meter (BTM). The BTM segment is further divided into two segments: Residential and C&I (Commercial and Industrial). The deployment and development of energy in the two segments is discussed below:  Explain the FTM and BTM
Front-of-the-Meter: The FTM market increased 72.9% from 2015 to 2018. In 2019, however, this market suffered a 31.5% decrease year over year. As already discussed, this was due to the lack of state support and a slowdown in large-scale projects to store and utilize clean energy. The FTM market generally tends to fluctuate because in Europe it is dependent on government auctions and policies and in 2019, they did not support and incentivize solar-plus-storage development in Europe. Overall, this market is expected to rise in the coming years.
Back-of-the-Meter:
Residential: Residential segment grew steadily at an overall rate of 78.3% from 2015 to 2019.
C&I: C&I segment grew generally at an overall rate of 99% from 2015 to 2019. However, from 2018 to 2019, there was a decrease of 12%. The major reason for this was regulatory uncertainty and long payback periods.
Comparison of Europe with Other Regions:
PTR expects the global energy storage market to continue to grow. As new & more efficient storage technologies are introduced and new policies are implemented, the market will continue to change. These were some of the developments in the energy storage market in different regions of the world.
North America: North America leads the energy storage market among all other regions and the region is dominated by the United States with 92% of energy storage manufacturing capacity installed. One of the main differences between the energy market in USA and in Europe is that there are many incentives to support the PV-plus-storage (solar storage) deployment in the USA, which are not present in Europe. Following USA is Canada which has about 5% of the energy storage capacity. In Canada, there are developments in energy storage, but the regulatory landscape has been relatively quiet. Canada does not have a national energy regulator which would allow for a common approach between generation and storage of energy, so each Canadian province approaches energy storage technologies separately. Although, the North American market is comparatively larger than the European market, PTR, expects Europe to overtake North America in terms of battery manufacturing capacity by 2023. This is because Europe is ramping up policy support for storage and carrying out different projects along with capacity auctions in regions such as UK, Germany, France and elsewhere.
Asia Pacific: APAC is also competitive in terms of energy storage market. It has an operational capacity of around 7GW and an estimated pipeline of 10.3GW. In APAC, China accounts for approximately 52% of the deployed capacity followed by Australia, South Korea and Japan. In APAC lithium-ion battery storage has been the preferred technology. In addition, with the increase in the number of grid-connected renewable electricity generation plants, countries will be focusing on frequency regulation to stabilize the grid and to cope with the variation in power generation from renewables.
Middle East and Africa: MEA has an operational capacity of nearly 2.2GW with an expected pipeline capacity of approximately 1.2GW. UAE and South Africa have the largest capacity in this region. The expansion of renewable energy and the increased dependence on the intermittent sources has led to energy storage market to flourish in UAE and other countries in MEA.
County by Country Developments in Europe
The United Kingdom has the largest energy storage capacity in Europe followed by Germany, Spain and Ireland. The UK has a goal of having 15% of its demand met by renewables by 2020 and has focused on energy storage as well to achieve the desired purpose. PTR expects that the pipeline of energy storage projects will continue to grow in the UK.
Germany was the leader in residential energy storage market in 2019 and is expected to dominate the residential energy storage market in 2020. The falling price for both PV and batteries, coupled with rising price of electricity, is driving the change as more people shift towards PV plus storage.
The most important update to the European Union (EU) electricity market is the Clean Energy Package (CEP), introduced by the European Commission on 30 November 2016. There were eight legislative proposals that have entered into force now. The most important ones, relating to energy storage, are the Renewable Energy Directive (sets targets for renewable generation), Electricity Directive and Electricity Regulation Directive. This law is important since it will lead to the increased use of intermittent renewable resources which would increase the demand for storage equipment hence expanding the energy storage market.
The electricity directive was revised in 2019, Directive 2019/944, as part of the Clean Energy for all Europeans package. This directive replaces previous directives, to become law in Dec. 31, 2020 and will start in January 2021. It outlines rules for the storage of electricity to ensure "fair access to storage facilities to all market participants and to foster the effective and efficient use of energy storage facilities" It also states that the transmission and distribution system operators should not own storage facilities unless circumstances are exceptional.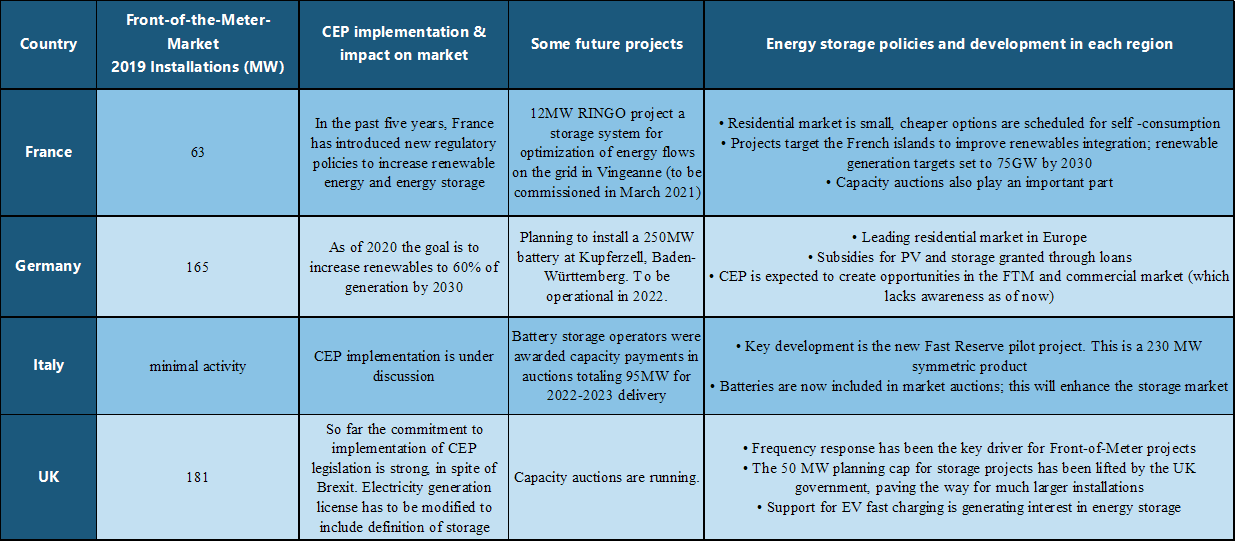 Table 1: Energy Storage Market- Top Four European Countries
Key players in the European Energy Storage Market
The key players in Europe are as follows:
1. Battery providers: Figure 1 shows Samsung SDI, LG Chem and BYD are the major battery storage providers in Europe accounting for 75% of the market till 2019. Samsung SDI has announced the development of its second battery plant in Europe, to be in production in 2021. LG Chem and Chinese battery supplier BYD have are also taking the lead in developing storage systems and deploying them throughout Europe.
Others:
Figure 1: Battery Storage Providers in Europe
2.Integrators: An integrator is a company that integrates storage technology and the power conversion system. The top integrators in Europe are shown in Figure 2. In 2019, Nidec, NEC Energy Solutions and RES accounted for 42% of the market.
 Figure 2: Top Integrators in Europe
3. Developers: A developer arranges the funding and manages the project overall. Figure 3 shows the top developers in Europe. The top three developers in Europe are Statera Energy, Anesco and STEAG accounting for more than half of the market.
Figure 3: Top Developers in Europe
Revenue Streams and Applications in European market
According to PTR's research, the storage application split in Europe is as follows: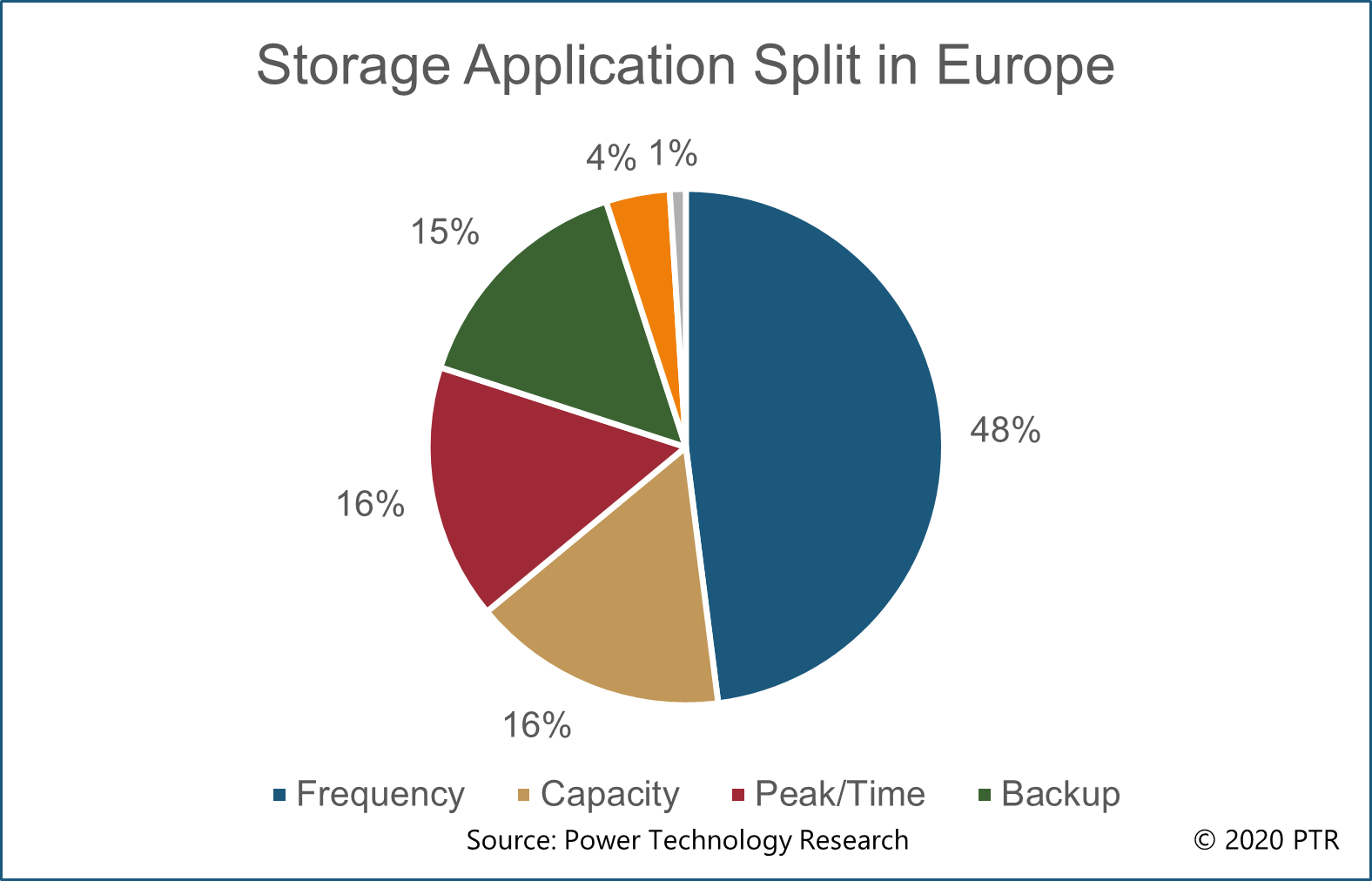 Frequency has been the most popular storage application since it is crucial in stabilizing the grid. Moreover, energy storage systems can be used to provide frequency regulation due to their ramping up characteristic and this takes less time (in seconds) as compared to the typical frequency regulation technique.
In the United Kingdom, the electricity produced cannot be stored in a large scale, so a Balancing Mechanism (BM) has been devised by the National Grid to balance electricity supply and demand in real time. Depending upon the discrepancy between electricity production and demand, the National Grid might accept an offer or bid from a market participant to increase or decrease generation or consumption. The operation of the BM relies on the flow of data from the National Grid and the electricity trading happens in a wholesale market with contract negotiated every half hour.
Moving Forward
In Europe, as in the rest of the world, the growth of the energy storage sector has been put at risk due to the Covid-19 pandemic especially with delays in projects of energy storage. Still, with government policies lining up, with the public desire for cleaner energy and with component suppliers, the PTR see the future with positive growth.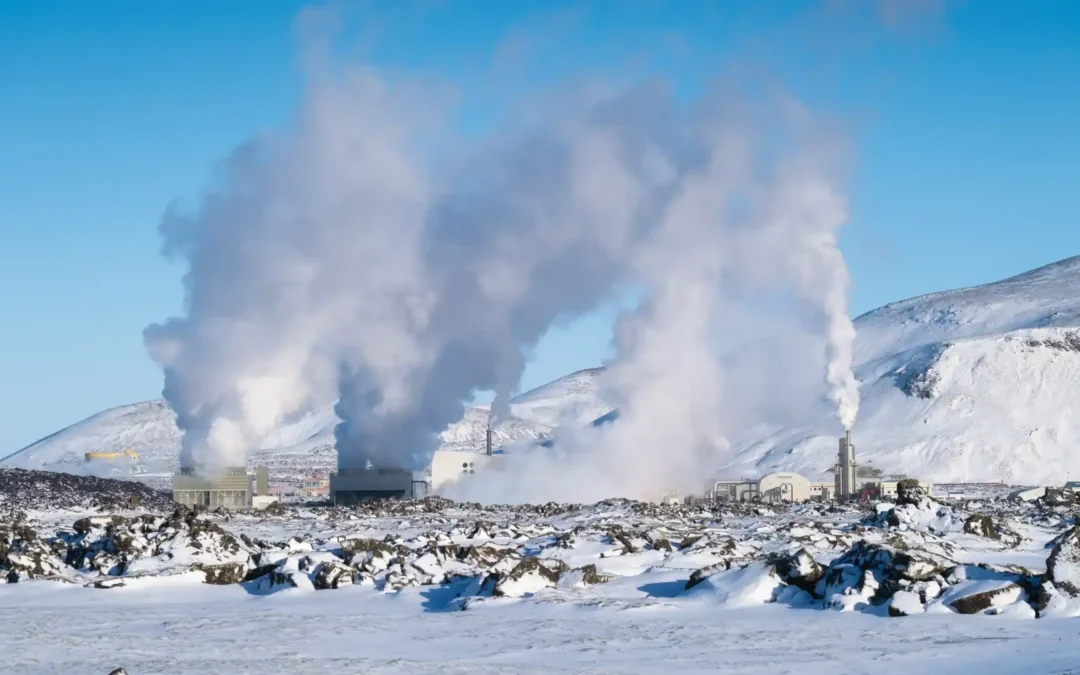 The themes at this year's UN Conference of Parties- COP28- range all the way from Accountability to Urbanization and Built Environment. The agenda for the Energy theme will be addressed between 1st-5th December.   COP28 emerges as a pivotal platform facilitating...
From flash flooding to heat waves, each progressing year is a reminder that climate change is no longer a threat that looms on the horizon, but rather a reality that countries are- often disproportionately- dealing with. Climate change flurrying out of control only...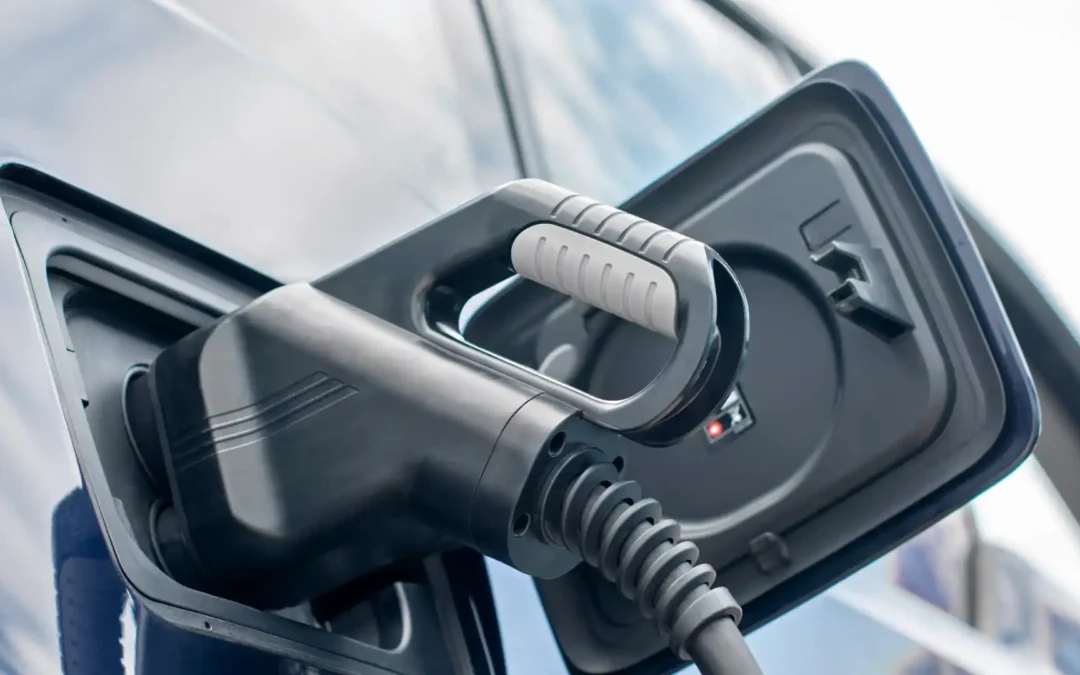 The benefits of incorporating Plug&Charge include streamlined user experience, enhanced security, accelerated EV adoption, universal interoperability, and business efficiency. Plug&Charge technology holds promise for all stakeholders involved in the electric...
PTR Joins Enlit as Knowledge Partner Collaborative Knowledge Partnership    Sunnyvale, USA: Power Technology Research ("PTR Inc."), a leader in energy and e-mobility market research, announced today its knowledge partnership with Enlit. This collaboration is centered...