Power Transformers Market Research
Power transformers are the most crucial equipment in the substations, and also a key portion of the total substation spend of transmission system operators. Power Technology Research (PTR) sizes the opportunity for this critical equipment by looking at individual utilities in the countries to analyze the upcoming greenfield and brownfield substation projects. The number of transformers to be installed in new additions, expansions and replacement categories are then aggregated based on this information. The utility specific approach allows us to understand the grid dynamics and analyze the market in more granular detail than most of our competitors, and helps us convey a much deeper understanding of the market to our customers for their decision making. Some key questions answered in this market analysis:
Where is the market headed?
Which insulation technology is dominating the market?
Who is the market leader?
Any upcoming regulatory roadblocks which should be kept in mind?
What is Covered in this Analysis?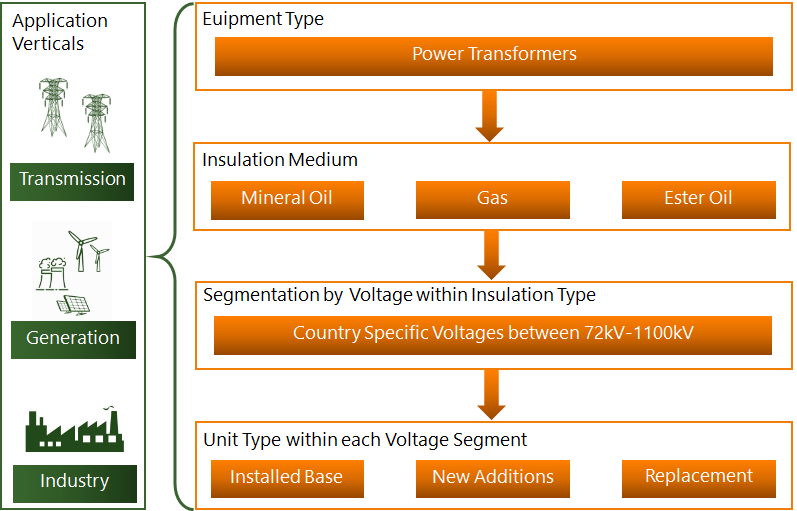 Countries Available:
– North America (Canada, USA, Mexico)
– Europe (All EU-28 countries)
– Emerging Markets (India, China, Gulf, South Africa, Kenya, Peru, Chile
…+ 7 other emerging transformer markets)
Applications by Country:
– TSO Specific Market Sizing
– 7 Generation Technologies
– 4 Industry Sectors
Segments within Applications:
– Split by Specific Voltages (kV)
– Split by Capacity Ratings (MVA)
Further Segmentations:
– Insulation Technology
          > Mineral Oil
          > Mineral Oil Alternatives (e.g. Ester Oil)
          > Gas Insulated
2. Competitive/ Qualitative Analysis: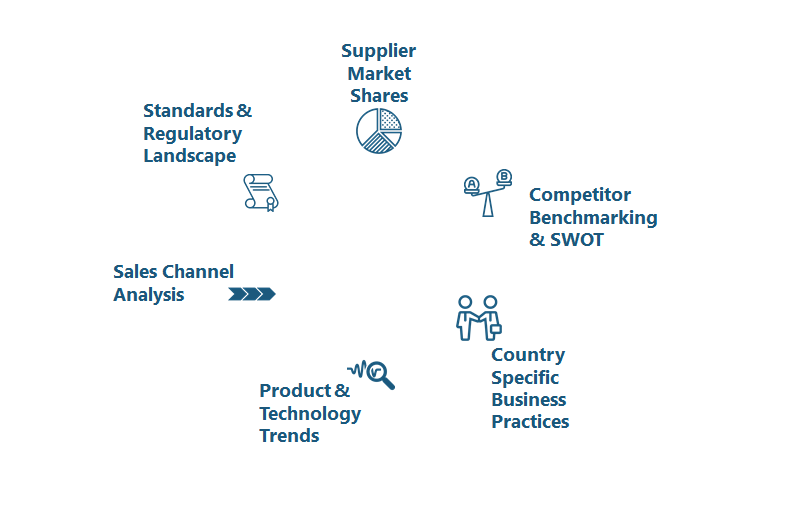 Competitive Analysis:
– Market Shares
      > By Country
      > By Voltage/Capacity
– Benchmarking
      > Product Portfolio
      > Aftersales Service Capabilities
      > SWOT Analysis
Market Accessibility:
– Procurement/Tender Processes
– Standards & Regulations
– Aftersales Requirements
– Sales Channel Analysis
<!-- Begin Mailchimp Signup Form --><!-- [et_pb_line_break_holder] --><link href="//cdn-images.mailchimp.com/embedcode/classic-10_7.css" rel="stylesheet" type="text/css"><!-- [et_pb_line_break_holder] --><style type="text/css"><!-- [et_pb_line_break_holder] --> #mc_embed_signup{background:#fff; clear:left; font:14px Helvetica,Arial,sans-serif; }<!-- [et_pb_line_break_holder] --> /* Add your own Mailchimp form style overrides in your site stylesheet or in this style block.<!-- [et_pb_line_break_holder] --> We recommend moving this block and the preceding CSS link to the HEAD of your HTML file. */<!-- [et_pb_line_break_holder] --></style><!-- [et_pb_line_break_holder] --><div id="mc_embed_signup"><!-- [et_pb_line_break_holder] --><form action="https://powertechresearch.us15.list-manage.com/subscribe/post?u=93bef5166a324553bf198ff1a&id=d327c87c20" method="post" id="mc-embedded-subscribe-form" name="mc-embedded-subscribe-form" class="validate" target="_blank" novalidate><!-- [et_pb_line_break_holder] --> <div id="mc_embed_signup_scroll"><!-- [et_pb_line_break_holder] --> <h2>Download Power Transformers Analysis Abstract</h2><!-- [et_pb_line_break_holder] --><div class="indicates-required"><span class="asterisk">*</span> indicates required</div><!-- [et_pb_line_break_holder] --><div class="mc-field-group"><!-- [et_pb_line_break_holder] --> <label for="mce-FNAME">First Name <span class="asterisk">*</span><!-- [et_pb_line_break_holder] --></label><!-- [et_pb_line_break_holder] --> <input type="text" value="" name="FNAME" class="required" id="mce-FNAME"><!-- [et_pb_line_break_holder] --></div><!-- [et_pb_line_break_holder] --><div class="mc-field-group"><!-- [et_pb_line_break_holder] --> <label for="mce-LNAME">Last Name <span class="asterisk">*</span><!-- [et_pb_line_break_holder] --></label><!-- [et_pb_line_break_holder] --> <input type="text" value="" name="LNAME" class="required" id="mce-LNAME"><!-- [et_pb_line_break_holder] --></div><!-- [et_pb_line_break_holder] --><div class="mc-field-group"><!-- [et_pb_line_break_holder] --> <label for="mce-EMAIL">Email Address <span class="asterisk">*</span><!-- [et_pb_line_break_holder] --></label><!-- [et_pb_line_break_holder] --> <input type="email" value="" name="EMAIL" class="required email" id="mce-EMAIL"><!-- [et_pb_line_break_holder] --></div><!-- [et_pb_line_break_holder] --><div class="mc-field-group size1of2"><!-- [et_pb_line_break_holder] --> <label for="mce-MMERGE1">Phone Number </label><!-- [et_pb_line_break_holder] --> <input type="text" name="MMERGE1" class="" value="" id="mce-MMERGE1"><!-- [et_pb_line_break_holder] --></div><!-- [et_pb_line_break_holder] --> <div id="mce-responses" class="clear"><!-- [et_pb_line_break_holder] --> <div class="response" id="mce-error-response" style="display:none"></div><!-- [et_pb_line_break_holder] --> <div class="response" id="mce-success-response" style="display:none"></div><!-- [et_pb_line_break_holder] --> </div> <!-- real people should not fill this in and expect good things - do not remove this or risk form bot signups--><!-- [et_pb_line_break_holder] --> <div style="position: absolute; left: -5000px;" aria-hidden="true"><input type="text" name="b_93bef5166a324553bf198ff1a_d327c87c20" tabindex="-1" value=""></div><!-- [et_pb_line_break_holder] --> <div class="clear"><input type="submit" value="Download" name="subscribe" id="mc-embedded-subscribe" class="button"></div><!-- [et_pb_line_break_holder] --> </div><!-- [et_pb_line_break_holder] --></form><!-- [et_pb_line_break_holder] --></div><!-- [et_pb_line_break_holder] --><script type='text/javascript' src='//s3.amazonaws.com/downloads.mailchimp.com/js/mc-validate.js'></script><script type='text/javascript'>(function($) {window.fnames = new Array(); window.ftypes = new Array();fnames[2]='FNAME';ftypes[2]='text';fnames[3]='LNAME';ftypes[3]='text';fnames[0]='EMAIL';ftypes[0]='email';fnames[1]='MMERGE1';ftypes[1]='phone';}(jQuery));var $mcj = jQuery.noConflict(true);</script><!-- [et_pb_line_break_holder] --><!--End mc_embed_signup-->
Contact Sales for Sample Outputs:
Germany: +49 (0)89 12250950
USA & RoW: +1 408 6220456
Contact Sales for Sample Outputs:
Germany: +49 (0)89 12250950
USA & RoW: +1 408 6220456