Flexible AC Transmission Systems Market Analysis
Flexible AC Transmission Systems (FACTS) have been a part of grid reliability equipment for more than 6 decades. The technological advancement in power electronics, semiconductor devices, and control systems has contributed a great deal in the development of highly efficient systems to ensure grid reliability. The new energy mix in the grid also warrants the need for FACTS in transmission systems. Within PTR's FACTS segment, a wide range of services are offered to provide in-depth analysis of the FACTS market in utility, renewable, and industrial applications across the globe.
Globally, China has the greatest FACTS installed base, followed by the United States, Japan, Canada, Brazil, and Australia, in that order. Taking a look at the technology split in the globally installed base, it appears that Static VAR Compensators (SVC) make up just under 50% of the installed base, followed by Static Synchronous Compensators (STATCOM) making up just over 30% and Series Capacitors which make up the remainder.
Breaking it down region-wise over the past decade, Asia contains roughly two thirds of the globally installed FACTS base, followed by North America at approximately 20%, and then Europe at around 6%.
In the Europe, Middle East, and Africa (EMEA) region, the capacity additions over the last few years have been consistently rising with 2020 seeing a capacity addition of approximately 3100 MVAr. Zeroing in over Europe, we see that over the last 10 years, the split of the different sectors in which FACTS bases have been installed shows that the renewables and utility sectors constitute roughly a third of the total installed base in this region each. Industrial applications make up approximately 20% of the installed base and the Railway sector constitutes the remainder.
Over in North America, the technology-wise split of the pipeline projects shows Series Capacitors to be the most popular technology planned for installation, constituting roughly 60% of all pipeline projects in this area. SVC constitute roughly a quarter of the pipeline projects in this region and STATCOM make up the remainder.
With different types of FACTS technologies, various applications, a range of specifications, and a global market of interlinked factors that impact growth, risks, investments, and trends, PTR's FACTS service works to consolidate accurate and detailed information under its umbrella. This service covers all three of the aforementioned FACTS technologies used in the power grid industry (STATCOM, SVC, and Series Capacitors) and delves into the key insightful and critical market trends that need your attention. PTR's FACTS Service provides a Global Project Specific Database of over 3000 projects, an MV FACTS Market Analysis, a Global FACTS Market Report, and the PTR Power Electronics App which covers regular happenings in the FACTS market to keep you up-to-date.
Key Questions Addressed in the Service
Which regions, countries and applications are future demand centers for FACTS?




Which technologies and applications are dominating the FACTS market?




Which factors are driving global FACTS market?




What are key market trends in global FACTS market?




What is regional competitive landscape for FACTS markets?

Who are key suppliers of FACTS and what are their offering?
Scope of Research – Flexible AC Transmission Systems
Market shares available through multiple lenses and user defined timelines
Timeline Split
FACTS are part of utilities and industries for more than 6 decades. PTR manages a database of these devices which goes back to 1950s. Using PTR's FACTS database, valuable insights can be extracted in user defined timelines which helps to understand FACTS evolution over different periods.
Report and Analysis in Power BI
We take a lot of pride in what we do for our clients as we aim to surpass ambiguous methodology and uninspired presentation, which has led most market research to remain relegated to 'me-too' slides, often remaining a footnote in presentations. With this service, we aim to transform the way you digest the market information.  We are using interactive PowerBI platform as the delivery vehicle for this service. The access is granted through login credentials accessible via Computer, Tablet or Phone: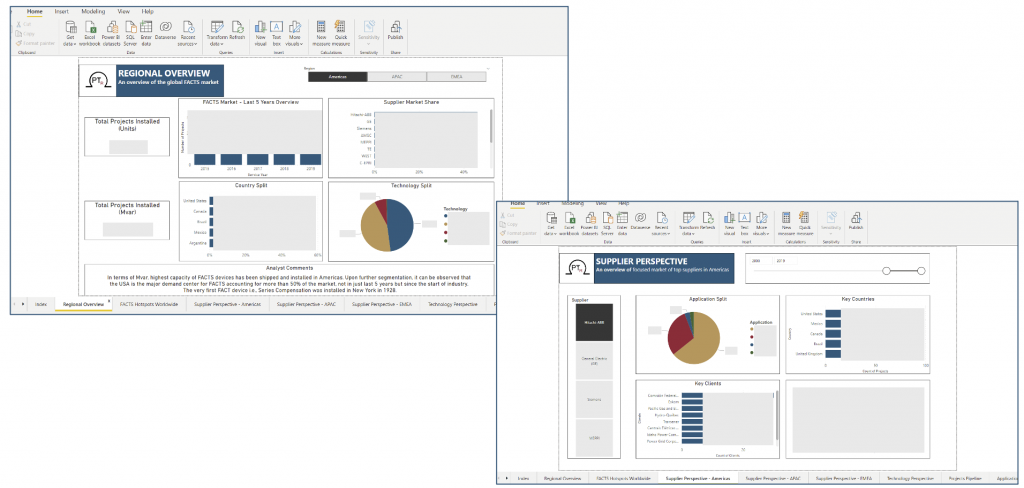 Why Choose Power Technology Research?
Too often is third-party market research disregarded by decision makers due to ambiguous methodology and uninspired presentation. This had led most market research to remain relegated to 'me-too' slides, often remaining a footnote in presentations. Our goal is to change that, and bring back pro-active decision making within the global power and e-mobility sectors by providing market research based on a transparent and flexible methodology.
While working with you, we will do everything to ensure that we are strictly following our three pillars of excellence: Transparency (meaning no black-box datasets with our analysts supporting the data provided), Diligence (deep technical knowledge translating into the research for you) and Digestibility (ensure working with you once you have purchased the service, to answer any questions so you can utilize the data as you intended). These claims are backed by our track record of working with some of the largest companies in industry and their testimonials.




"Very professional with consultancy approach. Which means, hearing your client's needs and understand it while making them feel comfortable. Also very intelligent being able to build such cost model."
"PTR was able to provide a level of depth to its methodology not replicated by other research companies I have worked with. It was a pleasure to work with PTR in developing our market strategy and a step-up from alternatives available"
"I was impressed by PTR's level of knowledge and insight on the automation industry. Their work is professional and they are good fun to work with too. I would have no hesitation in recommending them to others"
"Thanks to Power Technology Research for the great support in terms of market modelling and in getting a better understanding of the different applications. All our discussions and meetings were very fruitful and as well useful! Would be great to work with your team together in future for other topics."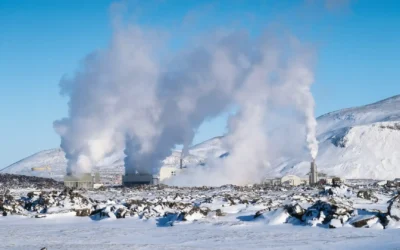 The themes at this year's UN Conference of Parties- COP28- range all the way from Accountability to Urbanization and Built Environment. The agenda...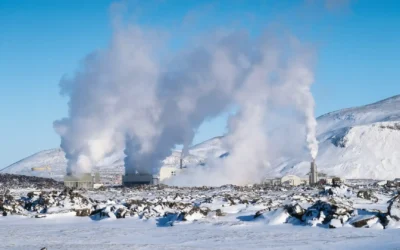 The themes at this year's UN Conference of Parties- COP28- range all the way from Accountability to Urbanization and Built Environment. The agenda...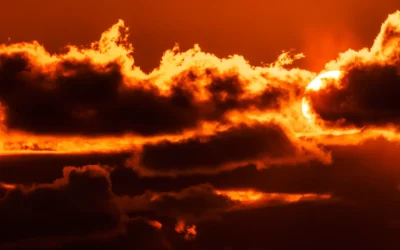 From flash flooding to heat waves, each progressing year is a reminder that climate change is no longer a threat that looms on the horizon, but...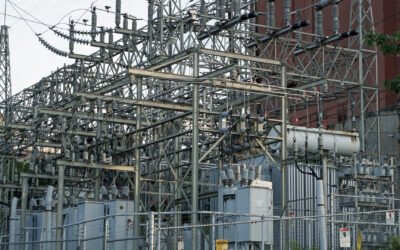 • Germany is one of the leading countries in Europe in terms of adoption of renewable energy and has made significant effort over the years in order...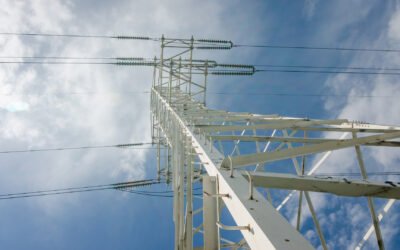 The market for Flexible AC Transmission Company (FACTS) is experiencing a remarkable upsurge in growth, primarily due to the escalating adoption of...
Download Service Overview (PDF)