EV Traction Motors Market Research
As one of the key powertrain components of electric vehicles, PTR feels that the traction motor market requires a focused report, especially due to potential technology shifts over the next 10 years as companies continue to invest in switched reluctance motor technologies. Today's challenge for the OEMs, Tier 1 and Tier 2 suppliers is to remain present in a market of fierce competition. Each of the manufacturers are pivoting for market dominance with significant investments in the technologies of their choosing. They are each placing bets on which technology will be the future winner for EV applications. In addition, for electric traction motor manufacturers, the EV market represents an significant opportunity for growth outside of traditional industrial applications.
About this service:
In this service, PTR will analyze the traction motor market for battery-electric vehicles (BEVs) in twelve countries. Peak power rating and motor technologies will be segmented across each of the countries. The markets will be sized according to end-destination of the motor, specifically the electric vehicle end-destination. Along with the market sizing, a competitive analysis, OEM model & motor technology matrix and market forecasts into 2022 are also included.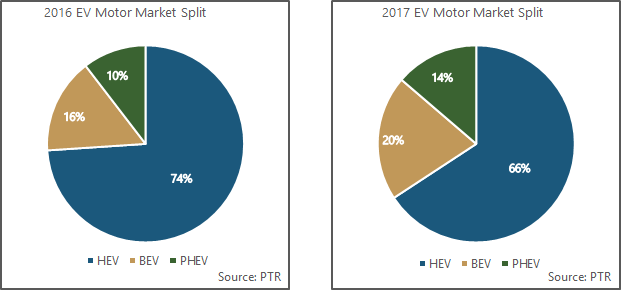 Related Products:
Contact Sales:
EMEA: +49 (0)89 12250950
USA: +1 408 622 0456
What is covered?
Final output includes the database and PowerBI based analytics of EV traction motors market. Service is delivered through online platform and includes following segmentation:
By Peak Power Rating
<60kW
60-89kW
90-139kW
>140kW
By Technology
Permanent Magnet Synchronus Motor (PMSM)
Permanent Magnet-Assisted Synchronus Reluctance Motor (PMa-SynRM)
AC Induction Motor (ACIM)
Switched Reluctance (SRM)
Other (Synchronous Reluctance, BLDC)
Countries Included:
Europe

Germany
Netherlands
Norway
Sweden
France
UK
Rest of EU-28

APAC

China
India
Japan
South Korea

North America
Operational Information:
Output is provded through access to Power Technology Research's online PowerBI platform which includes analytics and most important graphs based on the data. At any point it is possible for clients to download the database, and a power point version of the PowerBI report to use and integrate the information in their own systems.
The service is offered as an annual subscription, meaning the client user will have access to the information and interactive analytics online for 12 months by default. After which point the sbscription would need to be renewed to get further access to revised database and information in the coming year.