Use of Digital Solutions in the Process Industries
Customer Request
A European provider of Digital Transformation solutions wanted to understand the limitations of existing automation solutions being utilized by end-users (industry verticals) and analyze the opportunity for them to address these pain points through their latest digital solutions.
Target geographies for this analysis were Europe, Middle-East, North America and South America with a specific focus on Consumer-Packaged Goods, Mining & Metals, Waste-Water Treatment and Oil & Gas industries.
Solution
A detailed questionnaire for end-users (industry verticals) was developed in close collaboration with the client, having three main sections: Existing Challenges and Concerns, Buying Decision Process and Criteria for Vendor Selection. Target participants were identified to be Engineering Managers, Plant Managers, Operations/Maintenance Managers and Energy Managers, keeping in view their role as decision influencers for digital solutions procurement.
A total of 6 in-depth interviews per region (1.5 – 2 hrs.) were conducted to answer questions within all three sections, covering topics like operational KPIs, tech investment priorities, examples of upcoming digital investments, sales channel preference and preferred vendors and selection criteria. Along with providing the completed surveys, the information from the research was synthesized to provide the client with a thorough analysis of the current state of the solutions and the affinity for their solutions in the target industries.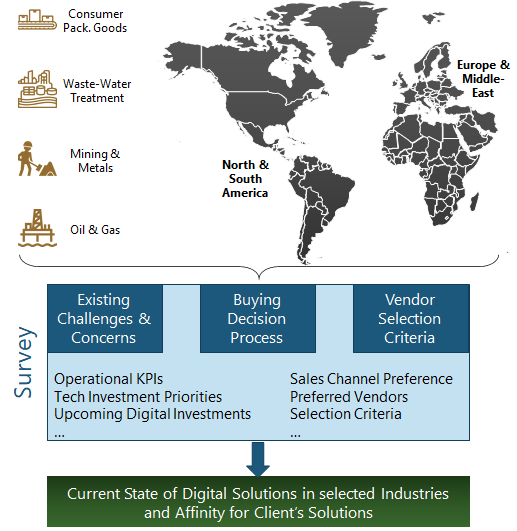 More on our Private Equity Offering:
Contact:
Advisory & Client Relations (Private Equity)
+1-408-400 3214