Contact: Hassan Zaheer, Power Technology Research, Germany
hassan.zaheer@ptr.inc
+49-89-12250950
Press release date: 15th September 2020
Despite COVID, Trucks, Buses, and LCVs continue to be electrified with BEV production expected to increase annually by 50%, 25% and 41% respectively between 2019-2025.
Buses are the second most electrified commercial vehicle with over 3% in 2019, a trend that is expected to accelerate over the next 5 years.
Within commercial vehicles, Trucks have been the slowest to electrify with alternative fuel-cell technology having an impact in the long-haul segment.
Munich, Germany – September 15th, 2020
Power Technology Research has recently updated its Commercial and Off-Highway vehicles service which tracks the production of six different vehicle types: Buses, Trucks, LCVs, Forklifts, Agricultural Vehicles, Construction Vehicles. According to PTR, the 2019 production volume of conventional, hybrid and electric commercial and off-highway vehicles was dominated by Light Commercial Vehicles (LCVs) market segment, having 22 million units in total for Internal Combustion Engine (ICE), Plug-In Hybrids (PHEV), and Battery Electric Vehicles (BEV) segments. The smallest market segment (on a volume basis) was with 720 thousand units. Trucks were the second largest segment at 3 million units across the three segments. Agricultural and Construction Vehicle production was at 2.5 million and 1 million units respectively. Forklift production stood at 1.5 million units globally.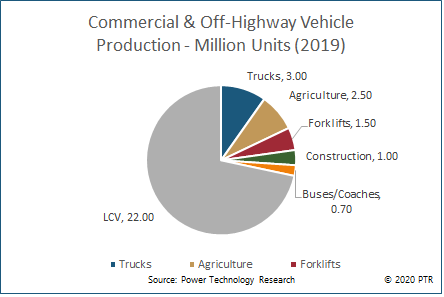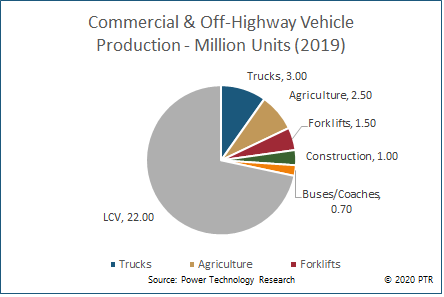 Looking at the growing vehicle electrification, Power Technology Research's analysis predicts a projected annual growth from 2019-25:

The greatest increase would be seen in Construction and Agriculture segment, 157% and 133% respectively. Followed by Trucks at 50%, LCVs at 41%, buses at 25% while forklifts is expected to grow the least with only 1%.
Mike Sheppard, CEO of Power Technology Research says: "The uncertainty of Covid-19 has certainly impacted all vehicle segments, the effects of which we estimate lingering into 2021 and even 2022 for select markets. How companies react to the global pandemic has varied as well. We believe the electrification trend will continue and even may even accelerate as a result of expedited write-offs and market stimulus efforts."
—————————————-
About Commercial and Off-Highway Vehicles Market Research:
The Commercial and Off-Highway Vehicles service focuses on the six major segments of the commercial and off-highway vehicles market: Trucks, Buses, Lightweight Commercial Vehicles, Construction Vehicles, Agricultural Vehicles and Forklifts (Industrial Trucks). Each segment has different drivers and market dynamics, not to mention a myriad of OEMs providing solutions. The service analyzes production of these 6 vehicle types in 9 different territories of the world.  This latest edition of PTR's COHV service includes the impact of COVID-19 on all vehicle categories. In addition, preliminary 2019 market shares have been estimated. To learn more, visit: http://ptr.inc/services/e-mobility/commercial-offhighway-vehicle-market-analysis/
About Power Technology Research:
Power Technology Research provides specialized market research within Power Grid and E-Mobility industries through bespoke and syndicated research for our clients among Fortune-500, FTSE-100, DAX-30, NIKKEI 225 companies. Founded by engineers and market research professionals with decades of combined experience in global market research firms. The company was built on three pillars of excellence: Transparency, Diligence, and Digestibility. With a differentiated approach to market research, Power Technology Research can assist you in identifying, valuing, and bench-marking opportunities in a multitude of topics within these industries. To learn more, visit: http://ptr.inc/