Global oil flow and the strait of Hormuz
Middle East- an important cargo transit point
Saudi Arabia's Vision 2030 will be a factor driving on shore power
The Middle East is considered a major player in the global shipping industry mainly due to petrochemicals that the region exports all around the globe. Many tankers, carrying oil, LNG and other petrochemical products, navigate their way through the Persian Gulf daily before passing through the narrow Strait of Hormuz to meet the global need for hydrocarbons. The U.S. Energy Information Administration (EIA) estimates 21 million barrels of oil were shipped through Hormuz in 2018 accounting for a third of global seaborne oil trade and about 21% of global petroleum liquids consumption.
Regarding cargo, ports in the Middle East are the bridge linking Asia and Europe. The Port of Dubai is the busiest port in the Middle East and the ninth busiest port in the world. According to Marine Insight, Dubai handled over 15 million Twenty Foot Equivalent Units (TEUs) in shipments in 2019.
Figure 1: Crude oil and petroleum product exports through the Strait of Hormuz.
Source: Center for Strategic and International Studies
In the following section, the article will discuss the developments in the shore power industry specially with regards to tankers and container ships followed by cruise and inland vessels.
Tankers & Container Ships
In order to make their fleets environmentally friendly many global shipping companies have started to install onboard shore power systems. The move has been incentivized especially by port destinations in Europe and North America that are trying to limit emissions by providing shore power connections to the berthing at their docks. The trend is usually installing onboard shore power systems for cruise and inland vessels but companies operating large oil tankers are also leaning towards adopting this technology.
Several oil companies have invested in Onshore Power Supply (OPS) systems for quite some time. For instance, the Port of Long Beach and BP America introduced the world's first oil tanker terminal with shore power to eliminate air emissions from docked vessels as early as 2009.
Later, the BP terminal on Pier T became the second dock at the Port of Long Beach with shore power systems but it was the world's first such facility for 'liquid bulk' ships. This was followed by Alaska Tanker Company equipping two vessels that supplies crude oil to local refineries and that regularly dock at the Port of Long Beach so that they can draw power from Pier T that. This was a joint projected which was completed at a cost of USD 23.7 million with 17.5 million USD from the Port and USD 6.2 million from BP.
Current regulations at the ports of Los Angeles, Long Beach, Oakland, San Diego, San Francisco, and Hueneme require most container ships, conventional refrigerated ships, and cruise ships to use shore power when docked in ports rather than run their auxiliary engines. New regulation was proposed by California Air Resources Board (CARB) in 2020, that would require smaller container ships to use shore power beginning in 2023, roll-on/roll off vessels (Ro-Ros) starting in 2025 and phase in tankers starting in 2025 at Los Angeles and Long Beach terminals and Northern California ports in 2027.
In Europe, a recent report showed that maritime emissions accounted for 13.5% of transports emissions. Many ports are offering shore power as one way to reduce emissions, especially for cruise ships, Ro-Ros, ferries, and container ships. Some ports, like the Port of Gothenburg in Sweden, is expanding its shoreside power network to connect tankers to shore power starting in 2023. The project has received a funding of around USD 1.2 million. Recently, the ports of Antwerp, Bremen, Hamburg, Haropa and Rotterdam announced a joint commitment to provide shore power for the largest container vessels by 2028.
In Asia, South Korea's Samsung Heavy Industry recently gave a contract worth USD 3.4 million to the cable management supplier company Cavotec to provide onboard systems for three cargo containers under construction for Evergreen, Seaspan and Capital. In May 2021, Asia Cement Corporation became the first cement carrier to use shore power while at the dock. With four cement carriers used at various ports in Taiwan, it will no longer depend on on-board generators for power, but will use shore power provided by Taipower.
Cruise and Inland Vessels
Along the significant investments being made to ports, power systems on cruise ships are being adapted. Around 30% of the global fleet of cruise vessels has already been equipped with onboard systems that allow them to draw power from the port and shut off their diesel engines. There has been a rapid installation of onboard shore power systems on ships:
MSC Cruises has eight ships
Norwegian Cruise Line Holdings seven ships
Royal Caribbean four ships
Carnival Corporation has on 29 out of 93 ships while work is underway on another 3 ships.
Color Line's ferries have OPS on all their ships and in 2019 introduced the world's largest plug-in hybrid vessel the Color Hybrid
Current State of Shore Power in the Middle East
The Middle East has seen an increase in shipping traffic of all kinds, including container ships, tankers and cruise ships. In 2020, Dubai claimed to be the capital of cruising, over Miami, with over 850,000 visitors. Although onshore power at Middle Eastern ports is just starting, companies that invest in equipping oil tankers in Europe for instance are realizing the shore power potential. For instance,
At the Port of Bahrain, ABB has been involved in a project with Arab ShipBuilding & Repair Yard (ASRY), a major ship building and repair company, that will allow ships calling at the port to switch off their diesel engines for on shore energy sources.
UAE authorities have also installed cold ironing facilities at the ports of Khalifa, Zayed and Musaffah to provide power to crafts and long stay yachts.
Egypt has a shore to ship facility on the Suez Canal.
Growth in the region is expected in the medium term as more vessels are installing onboard OPS systems. The market is expected to see new projects post 2025.
Key countries where potential new shore to ship will be installed are Saudi Arabia, UAE, Kuwait, and Egypt. The first three are global players when it comes to oil exports and regularly rank in the top 10 producers in the world. Egypt on the other hand is next to the busy transit route of the Suez Canal.
In September 2021, the International Maritime Organization (IMO) signed three agreements with Saudi Arabia in preparation to reduce emissions from shipping. As part of its Vision 2030, Saudi Arabia could become a leader in the maritime industry. By 2030, they plan to handle 41 million containers annually and cater to 19 million cruise ship passengers.
Shore to Ship Service Overview
The research presented in this article is from PTR's Shore to Ship service. For information about this service please submit a request shown below.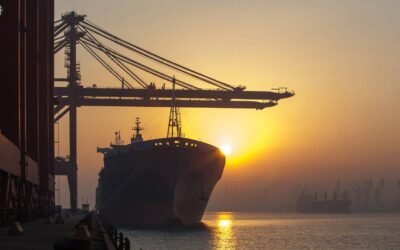 • European countries with high vessel traffic are increasingly moving towards electrification to reduce the emissions from the maritime sector. •...